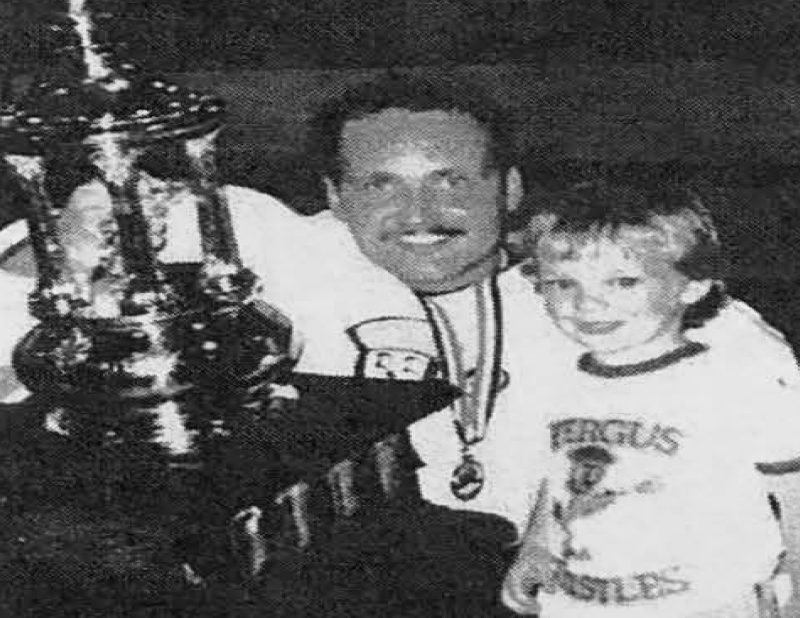 NAME: Rob "Robbie" Mason
INDUCTED: 2014
TEAM: Fergus
POSITION: Player
– Started playing in his home town of Fergus known as a "hotbed" of lacrosse where he and his childhood friends won 3 provincial championships together.
– Received the OLA Centennial Award for achieving a 4.0 G.A.A., the best in the province.
– Member of the Elora Mohawks in rookie season where they captured the Founders Cup.
– Added to the Whitby Builders Junior A team in his sophomore campaign in the 1977 Minto where they captured a silver versus a strong Burnaby team.
– Captured the Weatherhead Trophy as the MVP for the Junior A Mohawks in his final junior year.
– He began his Senior Major Career in 1978 with the history laden Fergus Thistles and played the next 12 years with them, and his last two of his career with the Owen Sound Northstars.
– Won 5 Presidents Cups in total 4 with Fergus in 86,87,88 & 90 and 1 with Owen Sound in 1991.
– Member of the Team Ontario team in 1984 that won the Continental Cup and also 4 Claire Levee Trophies emblematic of Ontario Senior Championships.
– Highlight of his career was being a contributing member of the first ever Canadian National Box Lacrosse Team in 1985.
– This team captured the North American Challenge Cup, the Australian International Festival of Lacrosse and capped off the 3 peat with Canada winning its 1st Box Lacrosse Championship with a 7-6 victory over the US at the Philadelphia Spectrum.
– Has received numerous awards, he was inducted into the Owen Sound Hall of Fame, won the Harry Lumley award and six Ross Nelson Awards as top goaltender in Ontario Senior Lacrosse.
Ontario Lacrosse Hall of Fame & Museum
Lock 3, 1932 Welland Canals Parkway
St. Catharines, Ontario, L2R 7C2