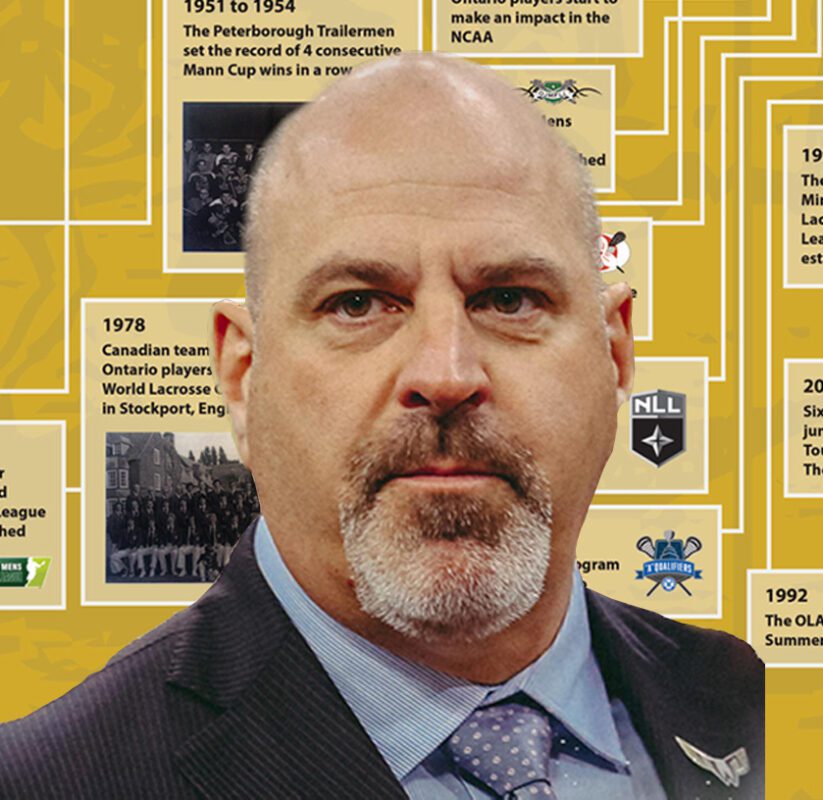 NAME: Paul Day
INDUCTED: 2017
TEAM: Grimsby / Peterborough
POSITION: Builder
– Paul hails from one of the small town hotbeds of lacrosse, Peterborough. Like so many others, his summers were spent playing minor box. In 1983 he played Jr. B, followed by 6 years of Junior A; where he was a member of the two time Minto Cup Champions, the Peterborough Maulers. Along the way, he picked up two OLA Best Defenseman Awards in 1988 and 1989, and was selected as Team Captain. He then played in the MILL, Senior A, with both the Burrards, and the Niagara Falls Gamblers in 1997.
– He has built and coached teams to become competitive, and vie for championships. Paul has coached the Rochester Knight Hawks on the NLL for over 18 years.
– In the summers during the NLL offseason, he coached the St. Catharines Jr. A from 1993 to 1996, the St. Regis Indians in 2009, and was an Assistant Coach with the Brampton Excelsiors of the MSL in 2010.
– He was the GM of the champion Team Canada Indoor team in 2007, and Assistant coach in 2011, and 2015.
– He has instructed at schools and clinics in the Niagara area, and has also conducted a number of clinics south of the border, in California, when time permits from his career, and his other lacrosse activities.
– Paul recently returned to the Peterborough Lakers, where he was entrusted as their GM; to bring in a coaching staff, and build successfully toward the 2015 Mann Cup. He still holds this position currently.
Ontario Lacrosse Hall of Fame & Museum
Lock 3, 1932 Welland Canals Parkway
St. Catharines, Ontario, L2R 7C2