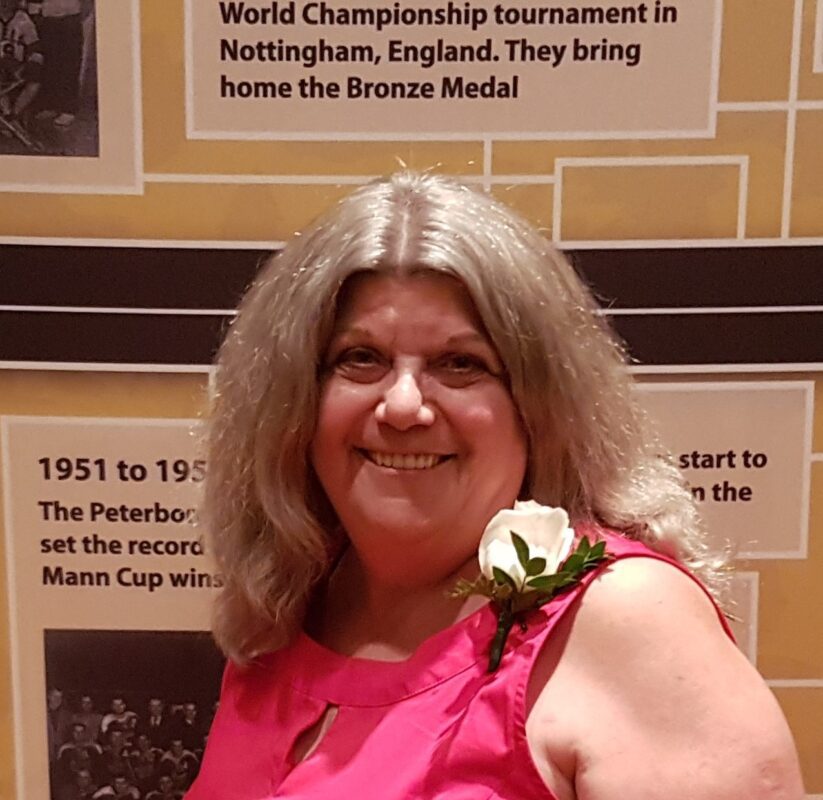 NAME: Filomena "Mena" Briscoe
INDUCTED: 2016
TEAM: Brampton / Orangeville
POSITION: Builder
– Interest in the game was piqued in her home town of Mimico.
– Volunteered as Manager for the Brampton Excelsiors where both her boys and spouse played and coached.
– Moved to Orangeville in the mid eighties where she served the Northmen organization until 2008, and held numerous executive position in Minor, Junior A and Junior B.
– Over the next two decades, she along with like minded members, built the Minor system to be a premier centre utilizing customized development and operational approaches.
– Minor/Major, tryout policies, Risk Management, Coaching selection, team selection were some of the initiatives pioneered.
– Key player in move to Zone 10 providing children with the A level platform that propelled them in many successful seasons.
– Championed the Northmen Women's Field program.
– Spearheaded the move to revive the Junior B program after an 11 year hiatus to provide minor graduates another avenue.
– Started the OLA U16 Fall Field as a pilot to fill a development void. Program just completed Season 11.
– In 2010 returned to the Excelsiors Women's Field program, and continues her passion to provide ongoing opportunities and equality for female lacrosse players.
– An inaugural inductee into Orangeville Sports Hall of fame in 2005.
– Other accolades from her peers include OWFL Coach of the Year, Bennett Family Coaching Award, and Jr. A and Jr. B Builder of Lacrosse award with the Northmen.
– Recipient of the OMFLL Laurie Montgomery award, and the Excelsiors' Bruce Wanless Ambassador Award.
– OLA honoured her with both the Merv Mackenzie Award, and the OLA Presidents Award.
– In 2008 Rotary International presented her with a Paul Harris Fellow Award, that brought with it $1,000 fellowship award presented to a worthy cause for youth on her behalf.
Ontario Lacrosse Hall of Fame & Museum
Lock 3, 1932 Welland Canals Parkway
St. Catharines, Ontario, L2R 7C2