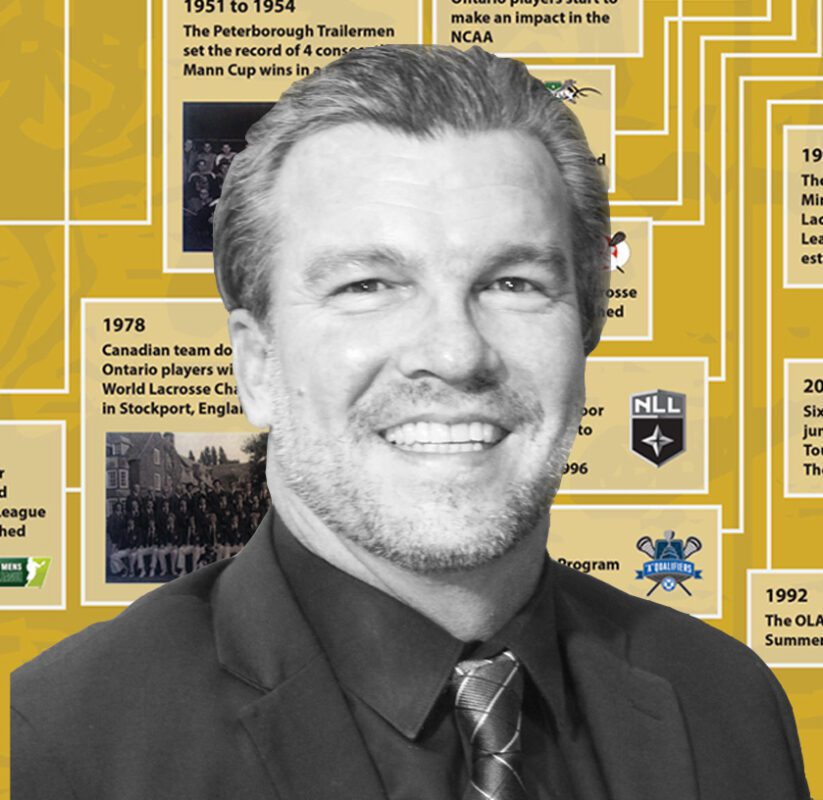 NAME: Dan "Teeter" Teat
INDUCTED: 2015
TEAM: Brampton
POSITION: Player
– Played all his Minor, Junior and Senior Lacrosse for the Brampton Excelsiors. His career spanned 34 years and includes numerous personal and team achievements.
– In 1988 he was the Junior " A" Rookie of the Year as well as being the 1993 Major Series Rookie of the Year.
– As a Major Series player and eventual Brampton Excelsior Team Captain, he won Mann Cups in 1993, 1998, 2002, 2008, and 2009 before joining the coaching staff where he won his sixth Mann Cup and his first as a coach.
– He played in the NLL from 1997 to 2010 a career that included a 1997 Champions Cup with the Rochester Knighthawks.
– He represented Team Scotland as a forward at the 2006 World Box Lacrosse Championship.
– He played consistently at the highest level of the game, he is known as a great playmaker, and a prolific scorer.
– Throughout his career he played with or against a long list of notables including John Tavares, Josh Sanderson, Anthony Cosmo, John Grant Jr., Dan Dawson and Colin Doyle.
– He has also continued to give back to the game through coaching, including past involvement with Brampton's Major Series Club and now as the Head Coach of the Junior " A" Brampton Excelsiors.
– He was awarded the Brampton Excelsior Lacrosse Club Life Membership Award in 2011.
– Also inducted into the Brampton Sports Hall of Fame in 2014.
Ontario Lacrosse Hall of Fame & Museum
Lock 3, 1932 Welland Canals Parkway
St. Catharines, Ontario, L2R 7C2