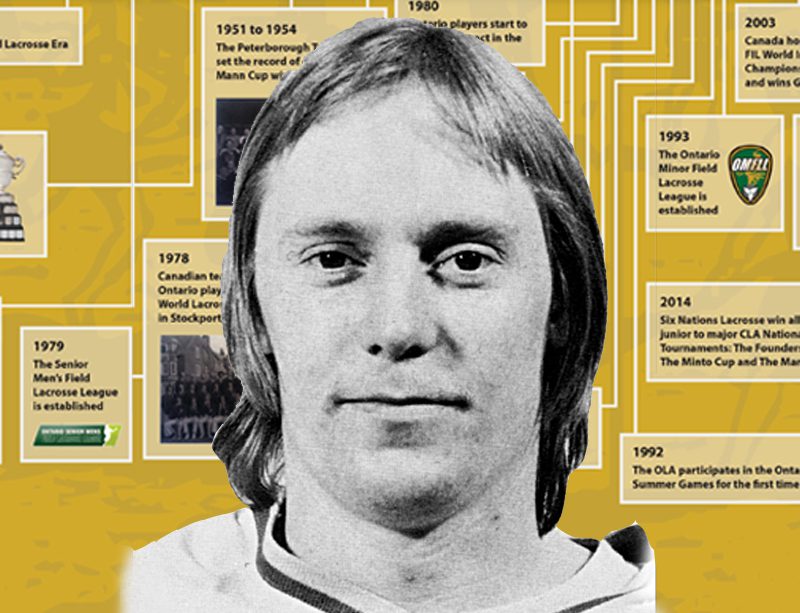 NAME: Clinton "Jan" Magee
INDUCTED: 2015
TEAM: Peterborough
POSITION: Player
– Multi-sport competitor in the Peterborough athletic community. lacrosse was his passion and ultimately was the path he chose.
– In Junior he was best known for the velocity of his shot; he is routinely described as having the hardest shot of any Junior or Senior player of his time.
– Won two Junior "A" Minto Cups in Peterborough in 1972 and 1973, a Professional League Championship in Rochester as a rookie in 1974, a Senior "A" Mann Cup with New Westminster, in 1976 and a Senior A Mann Cup with Peterborough in 1982 along with a Canadian Field National Lacrosse Championship with Peterborough in 1985.
– He led his power play unit from the point position, and 'ragged 'the ball during penalty kills, and battled incessantly for loose balls.
– An all-around athlete, strong defensively yet ranked highly as a scorer.
– His coaches described him as the type of player to build team around.
– Injuries forced him into retirement as a player in 1986, but his involvement continued as a coach with the Peterborough Minor lacrosse Association.
– He led the Peterborough Minors to a handful of provincial championship including two Tyke gold medals in 1988 and 1989, a Bantam Gold medal in 1994 and a Midget Silver medal in 1995.
– Played with or against such notables including J.J. Johnston, Len Powers, Morley Kells, Paul Evans and Bob Allen.
– Joined his father Mick and mother Muriel as an inductee into the Peterborough Sports Hall of Fame in 2014.
Ontario Lacrosse Hall of Fame & Museum
Lock 3, 1932 Welland Canals Parkway
St. Catharines, Ontario, L2R 7C2