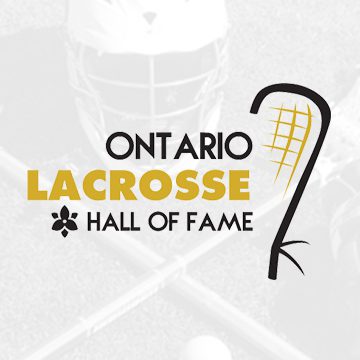 June 29, 2020
FOR IMMEDIATE RELEASE
ONTARIO LACROSSE HALL OF FAME CLASS OF 2020
St. Catharines, ON – The Ontario Lacrosse Hall of Fame and Museum is pleased to announce the 2020 inductees. These deserving inductees have been nominated by individuals of the Ontario Lacrosse Association community. The Ontario Lacrosse Hall of Fame Induction Selection Committee meets yearly and chooses the inductees for the current year from the nomination library. For more information on submitting your nominations please visit the OLHOF website.
2020 Ontario Lacrosse Hall of Fame Inductees
Player Category: Steve McCullough, Gavin Prout and Phillip Sanderson
Builder Category: Marion Ladouceur and Joanne Stanga
Veteran Category: Allan Gordaneer
———–
Steve McCullough – Player Category – Brampton
Steve McCullough played his entire Ontario Lacrosse Association (OLA) career with Brampton. He played in the Brampton minor lacrosse system from 1966-1975 before graduating to the Brampton Junior "A" team in 1976. He played Brampton Jr. "A" from 1976 to 1980. In 1976 Brampton Jr. A" were the Ontario Champions and were Minto Cup Finalists. In five seasons with the Brampton Jr. "A" team Steve's stats for the regular season: 110 Games Played, 99 Goals, 148 Assists, 248 Total Points and 406 PIM. In 1982 Steve joined the MSL Brampton Sr. "A" team and played there until 1986. Steve was known as a tough, hardworking defensive player who could score on key situations. Brampton Lacrosse awarded Steve a team MVP Award in 1980, and a team Top Defensive Award in 1985. Steve played against or with Bob Burke, Jim Veltman, Troy Cordingley, Bob Watson, John Grant and Jim Wasson.
Gavin Prout – Player Category – Whitby/Brooklin
Gavin Prout was an offensive threat every time he stepped on the floor. Gavin played Ontario Lacrosse Association (OLA) Junior "A" Lacrosse from 1995-1998 with Whitby, winning two Minto Cups in 1997 and 1999. He moved up to the OLA Major Series Lacrosse team in Brooklin playing with them in 2000, 2003-2004, and 2006-2007, winning a Mann Cup in 2000. Gavin played one year with Peterborough in 2011, and then joined Brooklin again during the 2013 and 2014 seasons. During his lacrosse career Gavin was the recipient of many awards including the OLA Jr. "A" Series Dennis MacIntosh MVP Trophy, the Bobby Allen Top Scorer Trophy, the Dean McLeod Play-Off MVP Trophy, and the E.W. Billy Evans Top Graduating Player Trophy. Gavin also received the OLA MSL Gene Dopp Top Rookie Trophy in 2000. Professionally Gavin played 11 years in the National Lacrosse League and seven years in the Major Lacrosse League. Gavin has represented Canada playing on Team Canada Men's Field teams winning bronze in 1996, silver in 2002 and gold in 2006 and on the Team Canada Indoor team winning gold in 2007.
Phillip 'Phil' Sanderson – Player Category – Orangeville/Brampton
Phil Sanderson has had a long and successful lacrosse career as a dominant and respected defensive player. He played regular shifts and penalty kill and was an on-floor team leader who often led the team in loose balls. He had a great attitude, kept the team loose, but also made teammates accountable and better players, because of his influence. Phil played five full season of Ontario Lacrosse Association (OLA) Junior "A" Lacrosse with Orangeville 1993-1998, 11 full seasons of OLA Major Series Lacrosse with Brampton 1999-2009. He represented Canada on two Team Canada Men's Field Lacrosse teams and played two seasons with the Toronto Nationals of the Major League Lacrosse. Phil has accumulated two Minto Cups 1994 & 1998, three Mann Cups 2002, 2008-2009, a silver medal in 1996 and bronze medal in 2010 with Team Canada and was the recipient of the OLA John "Gus" McCauley Award as Top Defensive Player in the OLA Junior "A" Series in 1997. In the 14 seasons Phil played in the National Lacrosse League he was a part of team winning the championship three times. Phil has played against lacrosse legends Gary and Paul Gait, and with and against Darris Kilgour, Rich Kilgour, John Tavares, Jim Veltman, Colin Doyle and Josh Sanderson.
Marion Ladouceur – Builder Category – Pelham
Marion Ladouceur started her journey in lacrosse as an executive member of Pelham Minor Lacrosse in 1985 and has successfully worked her way to the position of the President of the Ontario Lacrosse Association. Marion's most predominant characteristic is her passion for the sport of Lacrosse, both box and field, and her integrity as a communicator. Over three decades of involvement in lacrosse as a Builder, Marion Ladouceur has committed thousands of hours of her time to help grow the game of lacrosse in Ontario and has clearly made an impact on the development and growth of the Ontario Lacrosse Association.
Marion has done it all! She has been a team manager, coach, referee, club executive member, club president, zone director, provincial ratings  coordinator, OLA Vice President Minor Box Lacrosse and Chair of the Minor Box Council, OLA Festival Convenor, Canadian Lacrosse Association (CLA) Minor Nationals Box Lacrosse Championship Convenor and the (current) OLA President. Over the course of her lacrosse involvement Marion has been the recipient of many awards including a Queen's Jubilee Award, the OLA President's Award, the OLA Creator's Game Award for 30 years of service, the Tip Teather Award and the CLA Award for "Outstanding Support and Contribution to Lacrosse."
Joanne Stanga – Builder Category – Orillia
Joanne Stanga has been instrumental in developing many aspects of the game of Women's Field Lacrosse in Ontario, Canada and across the globe. Joanne has invested her passion and talents into developing a complete program from the grassroots to the international level. She has convened leagues, coached programs, developed training materials, and more importantly left legacies. She used her talents in multiple areas of the women's field lacrosse as a coach and administrator. Joanne has coached the game (Orillia 2006-2010, U19 Team Ontario 1990-2000, Team Canada 1994-2003), and she was also involved building the game at a provincial level with the Ontario Women's Field Lacrosse League as its Commissioner 1988-2005, nationally as the Canadian Lacrosse Association (CLA) Women's Field Sector Chair from 1988-1992 and the CLA National Team Director 2005-2013. Joanne was also a member of the Federation of International Lacrosse Competition Committee 2009-2017. Joanne has had awards named after her – OWFL U19 Championship Joanne Stanga Trophy, and she has been the recipient of many including the CLA Lester B Pearson Award, the CLA Queen Elizabeth Award, the OLA Tip Teather Award.
Allan "Al" Gordaneer – Veteran Category – Toronto/Mississauga/Brantford
Al Gordaneer was a playmaker who could also score goals. During his playing career Al was a high scorer and a great team player. Al played his junior lacrosse with the Toronto Township PCOs / Mississauga PCOs from 1966-1970 and he was a prolific goal scorer. In 1970 Al was third in scoring in the Ontario Lacrosse Association Junior A Series Lacrosse League with 137 regular season points. His Junior Lacrosse career regular season statistics were: 145 Games, 145 Goals, 135 Assists, 280 Total Points, 136 PIM. Al went on to play Senior Lacrosse for the Brantford Warriors in 1971 and helped to win the Mann Cup. Al continued to play with the Brantford Warriors until 1973. In 1974 he played for the National Lacrosse Leagues Rochester Griffins winning the NLL Pro-Nations Cup. In 1975 Al played for the NLL Long Island Tomahawks. Al played with Pat Differ, Joe Hore, Bob Sicinski, Rick Dudley and Paul Cioci. He played against lacrosse greats John Davis, Gaylord Powless, Paul Suggate and Bram Wilfong.
———–
Congratulations to all of this year's inductees!
The Ontario Lacrosse Hall of Fame Museum is at Museum Lock 3, Welland Canal Centre, Welland Canal Parkway, St. Catharines L2R 7C2
The 2020 Induction Dinner will be postponed due to the COVID-19 pandemic. Please watch our website for information. www.ontariolacrossehalloffame.com
Please contact OLHOF President Chuck Miller at chuckmiller@bell.net if you require any further information.