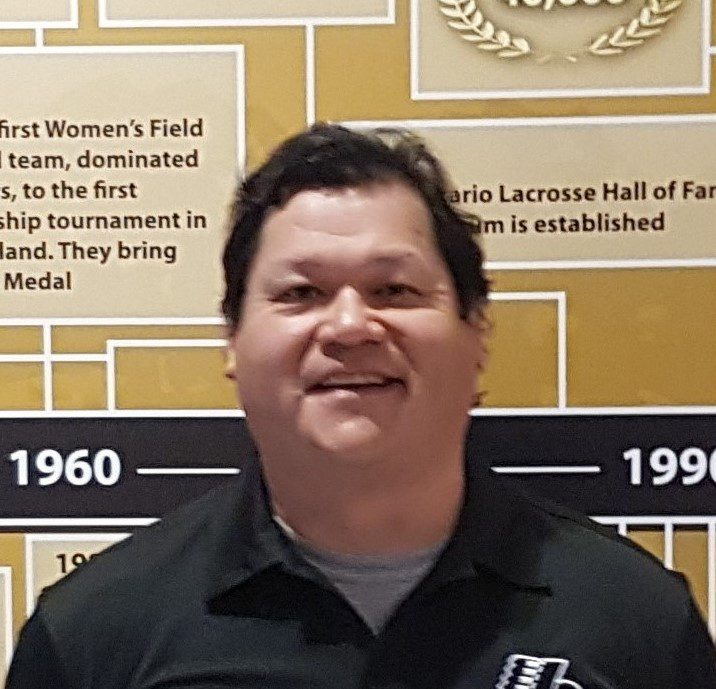 NAME: Cameron "Cam" Bomberry
INDUCTED: 2016
TEAM: Six Nations
POSITION: Player
– Played his favourite sport with the Six Nations Minor Organization, where he traveled across Ontario and B.C. to compete for Nationals and Provincial Championships.
– Played his first three years of Junior A career with the St.Catharines Athletics.
– Returned to his home town in 1991, where he led the Arrows to an Ontario Championship and the Eastern Canadian Championship and the National Championship in 1992.
– First captain of a Native based franchise that won the Minto Cup, and was awarded the prestigious Jim McConaghy Memorial Trophy as MVP.
– To this day be considers it a great honour to have been part of this special team.
– One of Team Canada's outstanding players in 1988 in the 1st ever U19 Championship in Adelaide, Australia, when Canada earned a Silver Medal.
– Was a three time All-American midfielder for Nazareth College, and a member of the NCAA National Championship Team in Division III.
– Four time member of the Iroquois National Team since their acceptance in 1990 in the FIL and was a key component of the Iroquois Nationals Program that won Bronze at the FIL World Championships in 2014.
– Member of the Six Nations Chiefs starting in 1993, and was a Mann Cup Champion with the Chiefs in 1994 and 1996.
– He ended his OLA Summer Career with the Mohawk Stars in 2008 in the Senior B Loop.
– Played eight seasons in the NLL with the Knighthawks, the Bandits, and the New Jersey Storm.
– He was an integral piece of the 1997 World Champions Rochester Knighthawks.
– He is known as a player of tremendous talent, a natural leader on and off the floor.
– His lacrosse IQ is second to none on teams full of incredible players.
– Although soft spoken in the locker room, when he did speak everyone listened.
– Always well respected by his peers, his teammates and his opposition.
– Always finds the time to give back to teach and guide the next generation of lacrosse players in the true spirit of the game.
– He continues to grow the game to this day by providing clinics, lectures and opportunities across North America.
Ontario Lacrosse Hall of Fame & Museum
Lock 3, 1932 Welland Canals Parkway
St. Catharines, Ontario, L2R 7C2